Today's post title is a little play on words. For the most part, I'm sharing photos from my spring and early summer [landscape] garden. I'm also announcing the winner of the
Traveling Totes' sponsored giveaway
further below. I consider my garden a winner in that during spring/early summer it's in its splendor, hence the play on words in the title.
We are in Zone 7a, and our landscape garden primarily consists of planted beds wrapping around a teardrop shaped lawn on a 50' x 100' city lot, adjacent to our home. We installed it in 2004, so it is considered mature. Late April, early May is when the garden really starts coming alive with blooming color. Today, I'll walk you through the progression of blooms of the spring, early summer seasons.
Knockout roses against brick wall with heirloom irises in front.
Azaleas, in front of nandina, snowflake viburnum and clematis, wrap around Kousa dogwood in front landscape.
'Joseph's Coat' climbing roses with lavender underplantings in courtyard.
I have nearly a dozen lavender plants from which I start harvesting and drying the buds on cut stems beginning in mid-May.
Harvested lavender late May, first week of June

Below, view from back of landscape, late May: lavender, hostas, and lawn beyond. In the background, Kousa dogwoods at center of frame top out at just below the halfway mark of Magnolia tree on right. The tallest trees in background are sassafras and silver maples on riverbank, across the street.
View from back of landscape
Shortly after the above was taken, I got a new limelight hydrangea plant for the landscape. It was really best suited where that lavender plant was situated (across from where my Endless Summer hydrangeas are), so a domino effect of shuffling my lavender plants began soon after.
The back landscape displays shades of blue, green & white by late May, early June (until the hibiscus bloom saucer-sized red flowers in July). The limelight hydrangea is situated just behind the flag (and to its left). There's also nandina (heavenly bamboo) in the far right corner, behind the hibiscus, which I have painstakingly staked for a continued upright visual once blooming. The nandina are equally tall, but my photo angle prevents them from being seen. One of several transplanted lavender is in front of the season statues.
Below is a labeled photo of the back landscape across from the Endless Summer hydrangeas, showing where the Limelight replaced the lavender. Butterfly bushes are starting to bud now.
Love-in-a-mist grows freely among most of the back landscape plantings, as do the snowflake anemones.
I still have one white lavender (pictured below) among the purple ones beneath my courtyard roses (which had been hard-pruned after their first flush of blooms by early June). The white lavender were a second choice color sourced one year when a hard winter wiped out a few of the purple plants.
Elsewhere in the garden during May, my heirloom poppies and spirea bushes pushed their blooms for happy color.
By the first of June, the bee balm just beyond the spirea started blooming.
Behind my spirea, I have coneflowers (Echinacea) and black-eyed Susans against the brick wall where my putto with book statue is. For reasons I cannot explain, after about five years in the landscape - 3 of which no flowers bloomed - the coneflowers are suddenly taller than the black-eyed Susans. So I transplanted four bunches to the other side of the landscape. They're a little puny from the jolt of replanting right now, but I think they'll be fine. The smallest bunch had blooms already unfolding before the transplant, seen in photo below. I also placed another of the white lavenders below that bird feeder.
I scaled back on my annual container plantings this year, but still created four for the courtyard.
Annuals purchased Memorial weekend
One pair of containers planted with purple fountain grass, chartreuse Angelina sedum, and SunPatiens in fuschia and white.
I've always planted four mandevilla on the trellis corners, but opted for just two this year, hoping they'll meet at the arch later in summer. The magnolia and yew on opposite sides of the trellis seem to suck any and all water, and the last two years the mandevilla withered as a result. I planted moonflower seeds as a backup to last year's mandevilla, and they seemed to want to take over, not only the ground below, but the magnolia above!
Pink mandevilla planted on opposite sides of garden gate arbor near courtyard.
Another pair of courtyard containers planted with spike dracena, purple queen trailer, pink pentas, and white SunPatiens.
I scored a couple of magnolia wreaths from Kohl's for one-third their regular price this spring, but they seem a little bland to me on the front doors. I may either switch back to my colorful floral wreaths, or add some more color to the magnolias. I bought a much smaller 'Fluffy Ruffle' fern this year instead of a Boston for the porch urn. It should fill in in the coming weeks.
Two different front door looks with wreaths.
The colors of my annuals in the landscape beds at the front of the house are in red, white and blue. I've been doing this color scheme for years. They are red geraniums, blue angelonia, and red & white vinca this year, and just planted on June 7 (two weeks later than normal for me).
So with color in the front flower beds, perhaps the magnolia wreaths keep it from being too busy. Speaking of magnolia, nothing beats the real deal. The photo collage below is the same bloom; the two left-side frames are from different angles at the same hour; the right frame is the closed bloom that same evening.
The Jackmanii clematis in the front landscape seems to do well each year by my simply cutting it to the ground late February or early March. The tuteur (French word for pyramidal shape trellis trainer) was hand-crafted of wood with spiral shaped copper on each leg.
If you look closely in the photo below (taken behind the hydrangeas at back of property), you can see the clematis in the far left back corner, which is the front of the property.
How do I keep all the containers, transplants and annual beds watered? I have three hose carts strategically placed around the landscape, each wound with two 50' hoses. That allows access from the back, middle and far sides of the property. We don't water the lawn, just annuals or new plantings. We have a separate water and electric supply on the riverbank also, so cords and hoses don't have to be dragged across the street when needed.
That's all the dirt I have to share today, and if you've stuck with me this long, thank you, you're all winners in my book! Alas, the Traveling Totes can only choose one winner.
This month's winner of the Traveling Totes giveaway was randomly selected from those who left comments or sent me emails on the last Traveling Totes recap. Our winner is
CHRIS WASSON
Chris, if you will please contact me via email and send your shipping address, your MacKenzie-Childs enamel storage box with lid in the classic Courtly Check will be sent to you!
Thank you to everyone who left your comments or emailed me. Be sure to read our upcoming travel recap on September 1 for a chance to win a future MC giveaway.
If you don't want to wait for our next giveaway, I want to share a promotion which both
MacKenzie-Childs
and
Beekman 1802
are sponsoring in a campaign called "Love Your Neighbor". I don't receive anything for these mentions, just sharing email information I have previously received. Both businesses are situated geographically near each other in upstate New York, hence 'neighbors'. (Pictured below are a few items I purchased from Beekman 1802, including a cross-promoted "Love Your Neighbor" soap and tea loaf pan. Check out fellow tote traveler,
Debbie at Mountain Breaths,
who made the lavender poppyseed tea loaf recipe in the cute pan! I also bought another set of Beekman soap/lotion, and the seed pod maker. I am using the seed pod maker now to germinate Mexican sunflowers for my garden!)
My recent purchases from Beekman 1802
On the
MacKenzie-Childs website
through July 30, 2017, if you spend more than $200 and enter
MACBEEK
at checkout, you will receive a free Morning Glory garden tool kit (while supplies last).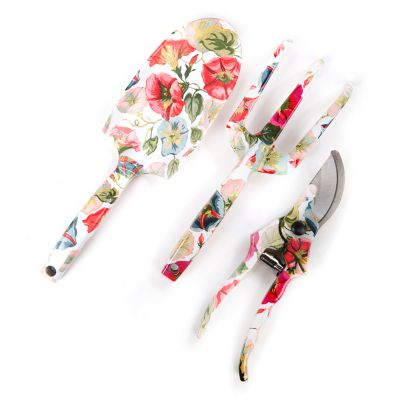 If you
Shop Beekman 1802
and enter
MCKC20
at checkout on your
first purchase
(excludes sale and discount items), you will receive their 20% friends and family discount through July 30, 2017.
Now, if you want to see a whole lot more garden tours, plan to visit
Pam at Everyday Living
on June 12th when she hosts a Garden Galore link party. Anyone can join, just link a post of your garden happenings, past or present.
If all that's not enough, you can read more about my garden by tapping on the 'My Landscape Garden' tab under Home & Garden on the top menu bar (or select it from labels or type in search box on the sidebar). Feel free to leave any questions or comments below. Happy Gardening!
(A special thanks to Pam at Everyday Living Gardens Galore! inaugural garden party "picks" and to Richella at Imparting Grace: Grace at Home #255for featuring this post !)
Rita C. at Panoply